Divi
The Most Popular WordPress Theme In The World And The Ultimate WordPress Page Builder
Build Visually
Divi Takes WordPress To A Whole New Level With Its Incredibly Advanced Visual Builder Technology
You've never built a WordPress website like this before. Divi is more than just a WordPress theme, it's a completely new website building platform that replaces the standard WordPress post editor with a vastly superior visual editor. It can be enjoyed by design professionals and newcomers alike, giving you the power to create spectacular designs with surprising ease and efficiency.
BUILD VISUALLYEFFECTSSHAPE DIVIDERSBULK EDITING LAYOUT LIBRARYTRANSFORMSHOVER STATESFIND & REPLACE
The Future of WYSIWYG
Drag & Drop Building
Add, delete and move elements around on the front end of your website. No coding and no confusing back end options.
True Visual Editing
Design your page in real time and see the results instantly. Create and customize your pages using intuitive visual controls.
Custom CSS Control
Developers can easily combine Divi's visual design controls with their own custom CSS. Divi's interface is simple yet not limiting.
Responsive Editing
Building beautiful responsive websites is easy. Divi is responsive by nature and also gives you full control over how your website looks on mobile devices.
Design Options Galore
Enjoy dozens of unique page elements and thousands of design options. Divi gives you full design control over your website.
Inline Text Editing
Just click and start typing! Editing your page has never been this easy. Draft pages on the front end and see the results instantly as you type.
Save & Manage Your Designs
Save and manage unlimited custom designs. Easily re-use them to jump-start new pages. Create advanced design systems and streamline your work flow.
Global Elements & Styles
Manage your entire website's design using global elements and website-wide design settings. Divi isn't just a page builder, it's a website design system.
Undo, Redo, & Revisions
Divi works like a modern software application. Easily undo, redo and travel through your entire editing history. If you make a mistake, Divi has your back.
Divi is For Everyone
Freelancers
Divi makes building websites for your clients so much easier, faster and more enjoyable. With Divi, you can build anything using a single platform, instead of managing dozens of different themes.
Agencies
Divi makes building websites faster and more efficient. It will streamline your design process and improve team collaboration. It's also amazingly affordable. Build unlimited websites for your clients on a single membership.
Website Owners
Divi makes building websites easier. For beginners and website owners, Divi gives you the freedom to bring your own visions to life. Anyone can jump into Divi thanks to its visual editor and hundreds of pre-made designs.
40+ Website Elements
A Module For Everything
Call to Actions
Blogs
Sliders
Galleries
Testimonials
Forms
The Complete WordPress Design System Is Here
Complete Design Control
Divi isn't just a WordPress theme, it's a complete design framework that allows you to design and customize every part of your website from the ground up. You have control over everything down to the finest detail. Create the perfect websites for you and your clients.
Optimize & Convert
Divi not only comes with powerful design tools, it also helps you make your website a success. Build your marketing lists with Bloom pop-ups. Promote your website on social media with Monarch social sharing. Increase website conversions with Divi Leads split testing.
Build Websites Faster
If you are a web design professional, you will be amazed by Divi's speed and efficiency. Divi isn't just an easy-to-use website builder for beginners, it's an advanced design system that can help take your team's work flow to the next level.
Customization
Complete Design Control Over Everything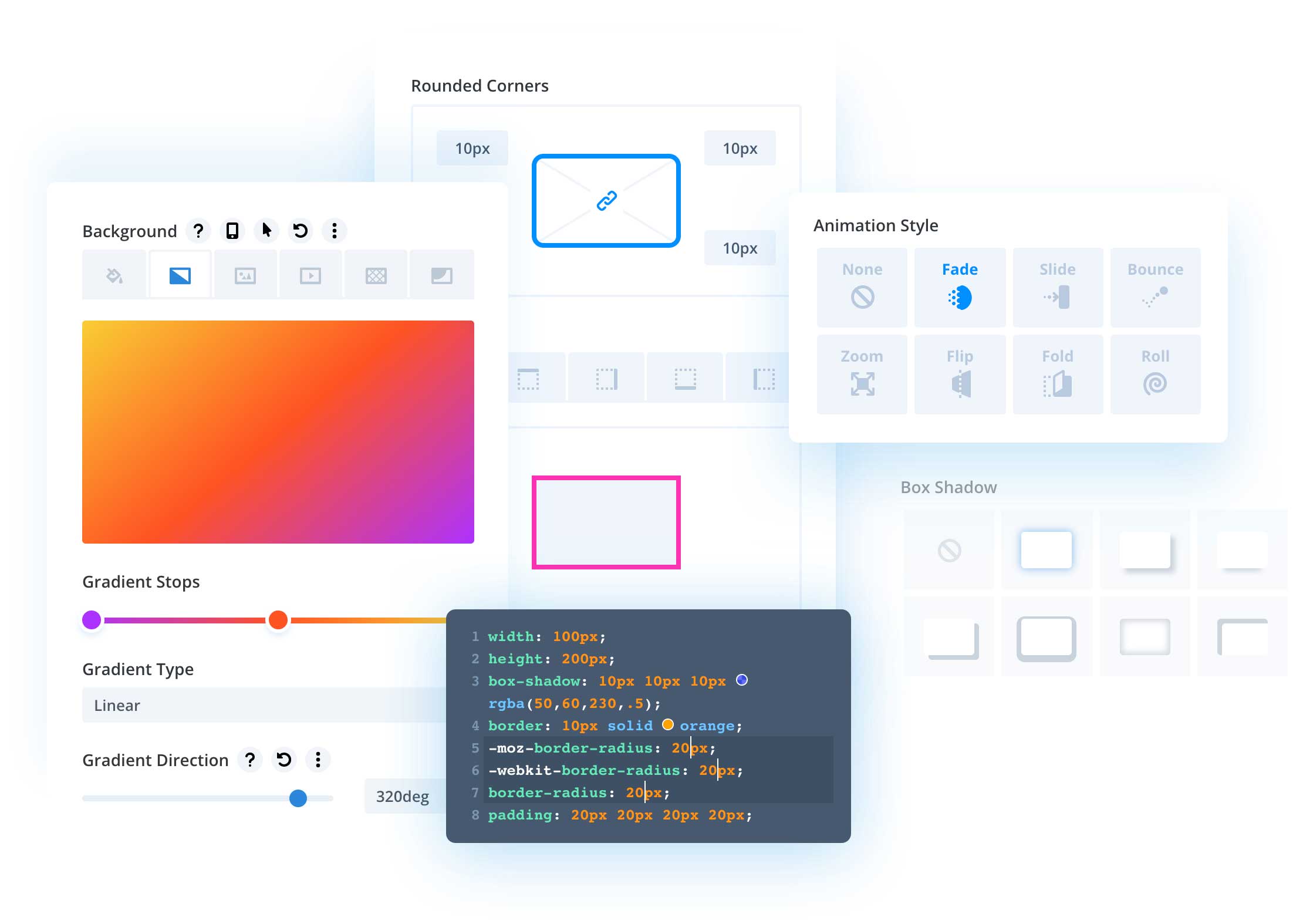 Hover State Styling
Using hover options, you can create stunning hover effects and transform Divi modules into fun and interactive elements. Our hover option interface is unique and amazingly easy to use. Every design setting in Divi that supports transitions can now be customized on hover with ease.
Responsive Editing
Making responsive websites is easy with Divi. Divi is responsive by default, but takes responsive design a step further by giving you complete control over every design setting on each mobile device. This allows you to perfectly tailor the appearance of each element on computers, tablets and smart phones.
Fonts & Text Styling
Enjoy a full range of text and font options. Pick from hundreds of web fonts or upload your own. Customize text sizes, letter spacing and line height. Change font weights and text styling. Control all standard text elements, such as anchor links, lists and block quotes.
Shape Dividers
Add custom shapes and effects to your pages, creating dynamic transitions between blocks of content and adding that extra bit of personal flare to your website. Shape Dividers can be placed above and below each section on your website, allowing you to easily build stunning transition effects between different parts of your page.
Border Options
Add borders to any element using Divi's robust border editor. Create rounded corners. Control border sizes, colors and styles and create unique effects by adjusting each edge of your element individually.
Transform Controls & Effects
Divi gives you the power to transform elements right on the page in ways that would typically only be possible in graphic design programs like Photoshop and Sketch. You can move elements around, scale them up and down, rotate on three different axis, as well as skew and adjust the transform origin with ease. All of this is done using a super slick interface that makes each transformation easy to perform and understand.
Advanced Code Editing
Enjoy a fully-featured code editor that makes writing and editing code so much easier and enjoyable. Features include syntax highlighting, error reporting, auto-complete, color picking, multi-line select, search, find and replace and more. Add custom CSS to any element or add your own code to any page using the Divi code module.
LEARN MOREPLAY VIDEO
Filters & Effects
Easily adjust and enhance the appearance of any element using a range of filters and effects, including Hue, Saturation, Brightness, Contrast, Invert, Blur, Opacity and Sepia. Create stunning designs using background blend modes.
Drop Shadows
Add depth to your page by creating custom drop shadows. You have full control over the size, position, color and intensity of the shadow. They're easy to create and you don't have to mess with any graphic design programs!
LEARN MORELIVE EXAMPLESPLAY VIDEO
Text Shadows
Create stunning text effects using text shadows. Easily apply text shadows to any element using Divi's simple presets, or create your own custom text shadows using the full set of controls.
LEARN MORELIVE EXAMPLESPLAY VIDEO
Animations
Easily add animations to any element. Apply simple animations using Divi's animation presets, or build your own animations by customizing the animation type, speed and direction. Wow your visitors as they scroll down the page with stunning animations that trigger when elements come into view.
LEARN MORELIVE EXAMPLESPLAY VIDEO
Background Images, Colors, Gradients, & Videos
Apply custom background colors, background gradients, background images and background videos to any element. Create fun overlapping gradient and image effects or use background blend modes to merge colors and images to create unique designs.
LEARN MOREPLAY VIDEO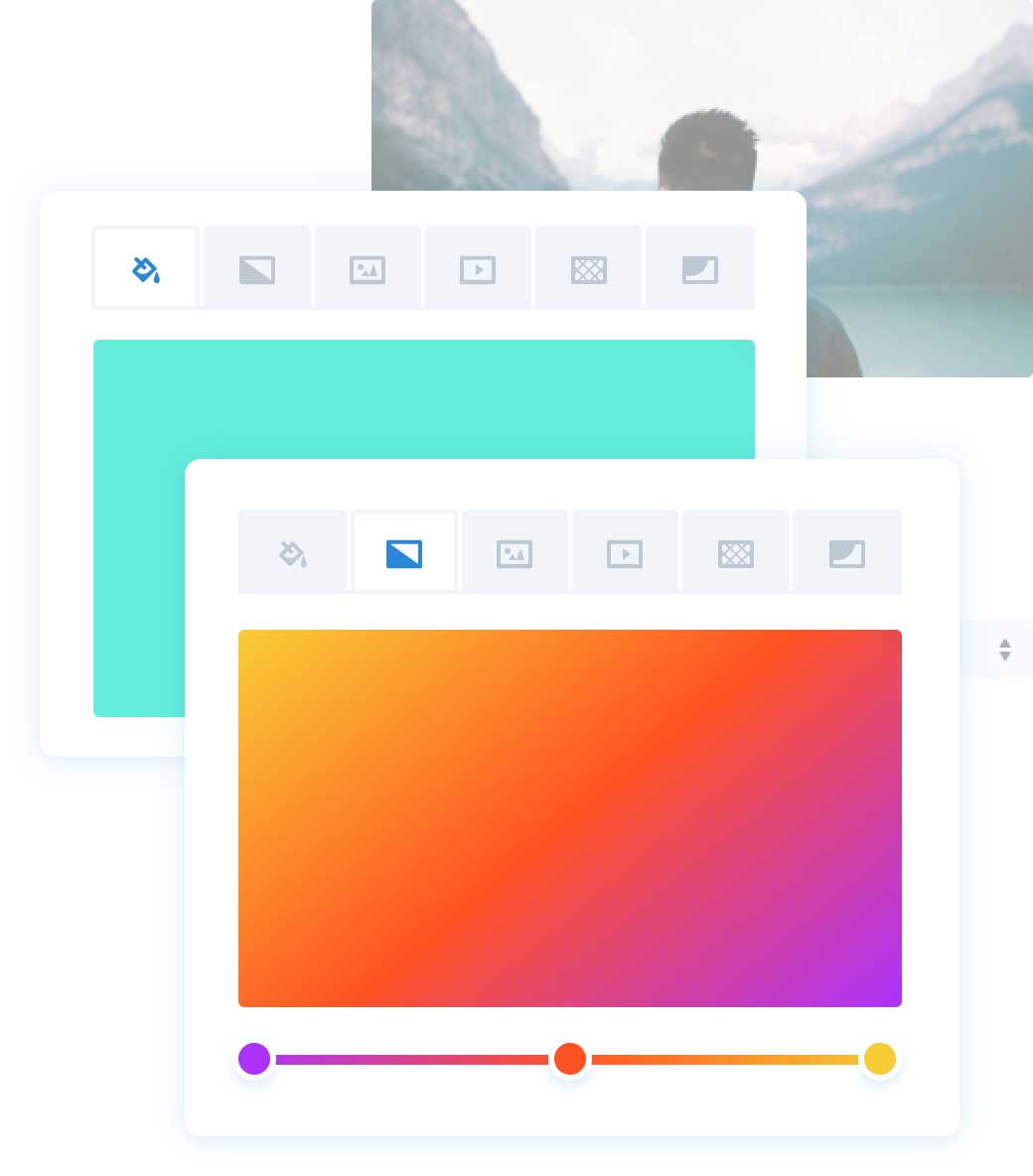 Efficiency
Design With More Efficiency Than Ever Before
Multi-Select & Bulk Editing
Multi-Select is amazing. With Divi, you can press Cmd or Ctrl and click to select multiple elements on the page at once. You can then edit these elements at the same time, changing their style and content together or moving them to different locations on the page as a group.
Find & Replace Styles
Make sweeping changes across your entire page instantly, saving you hours upon hours of editing time. Using find and replace allows you to change any design value, such as colors or fonts, across the entire page or within specific locations. Instead of opening up each element individually and changing colors over and over again, just find and replace across the entire document. It's incredible.
Magic Color Manager
Divi automatically remembers your recently used colors and stores them for easy access. It also displays your own customizable color pallet. In addition, Divi creates a unique extended color pallet using advanced color theory to give you a range of suggested colors that will look great on your page.
Copy & Paste Styles
The ability to copy and paste styles across elements is an absolute game changer. In Divi, anything can be copied from one element and pasted onto another. You can copy individual settings, groups of settings or even copy an element's entire design and transfer it to another element on the page. No need to open up design settings and edit things over and over again. Just copy and paste.
Extend-able Styles
Divi's extend styles functionality brings design efficiency to a whole new level. If you have a design style that you just created, and you want to use that elsewhere on the page, or even across the entire page, you can simply extend that style automatically to your desired location. Update hundreds of elements at once! Control exactly where and to which elements your styles should be extended to. For example, let's say you just crafted the perfect box shadow and border style for your images, but you have dozens of images on the page. You can extend that style to the rest of your images instantly!
Divi Quick Actions
The Divi quick action system is an all-in-one finder and doer. Need help finding a setting? Looking for some clarification on how something works in the builder? Just type to search through our help videos and all available Divi options. Perform advanced actions like adding elements or loading layouts. Quickly jump to different parts of the builder with a few keystrokes, or even jump to different pages and different WordPress admin areas. It's super fast and a huge time saver.
Drag & Drop Uploading
Drag and drop media files directly onto your page. They will upload instantly and appear inside your design! Drag and drop entire Divi layouts to import them directly. Drag in new web fonts, text files, videos and more. No need to use the WordPress media library.
LEARN MOREPLAY VIDEO
Keyboard Shortcuts
Keyboard shorcuts are the key to ultimate efficiency. Divi comes with a full range of keyboard shortcuts that advanced users can use to speed up their work flow significantly. Once you get the hang of using shortcuts, you will wonder how you ever lived without them!
LEARN MOREPLAY VIDEO
Quick Access To Element Styling
Divi elements come with a huge array of design settings. However, Divi also makes it easy to search and filter through these settings and to quickly jump to your already-modified settings. Viewing modified styles gives you a list of all settings that are currently active so that you don't have to hunt through the full array of options. It's very similar to Google Chrome's "view computer styles" filter.
Search-able Settings
All Divi settings are search-able. Instead of hunting through different options groups to find the particular option you are looking for, you can just start typing when you open a settings pop-up and the results will be filtered accordingly. Even if you know where to find an option, searching for it is faster. No need to click into different tabs and groups. If you want to edit your background color just type "background color" and the option will appear right away.
Filterable Settings & Search
Settings within Divi are also filterable. Applying different search filters will trim down the results and help you find what you are looking for. Search results can be filtered to organize settings into different groups such as modified styles, responsive styles, and hover styles.
Marketing
eCommerce, Lead Generation, Built in Split Testing and Powerful Conversion Insights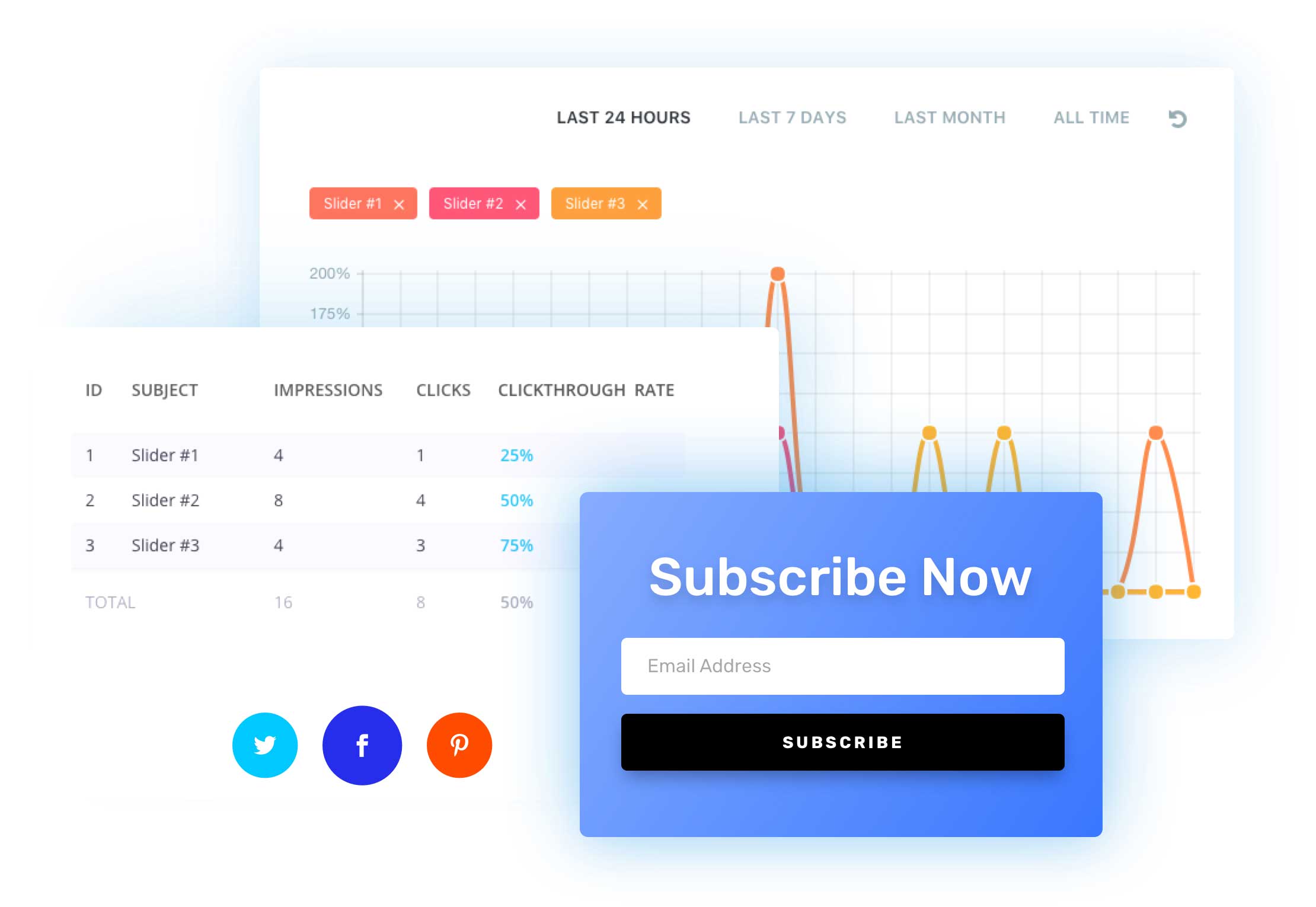 Email Opt-in Provider Support
Build your email marketing lists with Divi's email opt-in module. Divi comes with an impressive range of email provider support, allowing you to build lists on almost any platform. You can even create custom fields, allowing you to build segmented lists and collect unique information from your subscribers. It also comes with GDPR compliance features.
LEARN MOREPLAY VIDEO
Pricing Tables
Pricing tables are one of the many page elements that Divi offers. With a full range of design and content settings you can create compelling sales pages for your products.
Contact Form Building
Enjoy a full-feature contact form builder. Create custom form fields to collect any type of information from your visitors. Hide and display input fields using advanced conditional logic. Style each input individually using a full range of design options.
Social Following
Help build your social following with Divi's social follow module and Monarch's social sharing system. Having a social media presence is a must, and Divi makes it easy to promote your social media profiles.
Built In Split-Testing
Divi's split testing system is no joke. With Divi, anything can be tested. Test different designs and content against each other and choose unique goals to see how each variation performs. Divi gives you powerful insights so that you can pick the best version and increase your website's conversion rate using proven results.
WooBuilder
Build and Sell Stunning Products With The Divi Builder
Divi is compatible with WooCoomerce and offers specific WooCommerce integrations that make the two a perfect pair. WooCommerce is free, which means anyone using Divi can start selling products online at no additional cost.
DEMO 1DEMO 2DEMO 3DEMO 4DEMO 5DEMO 6DEMO 7DEMO 8DEMO 9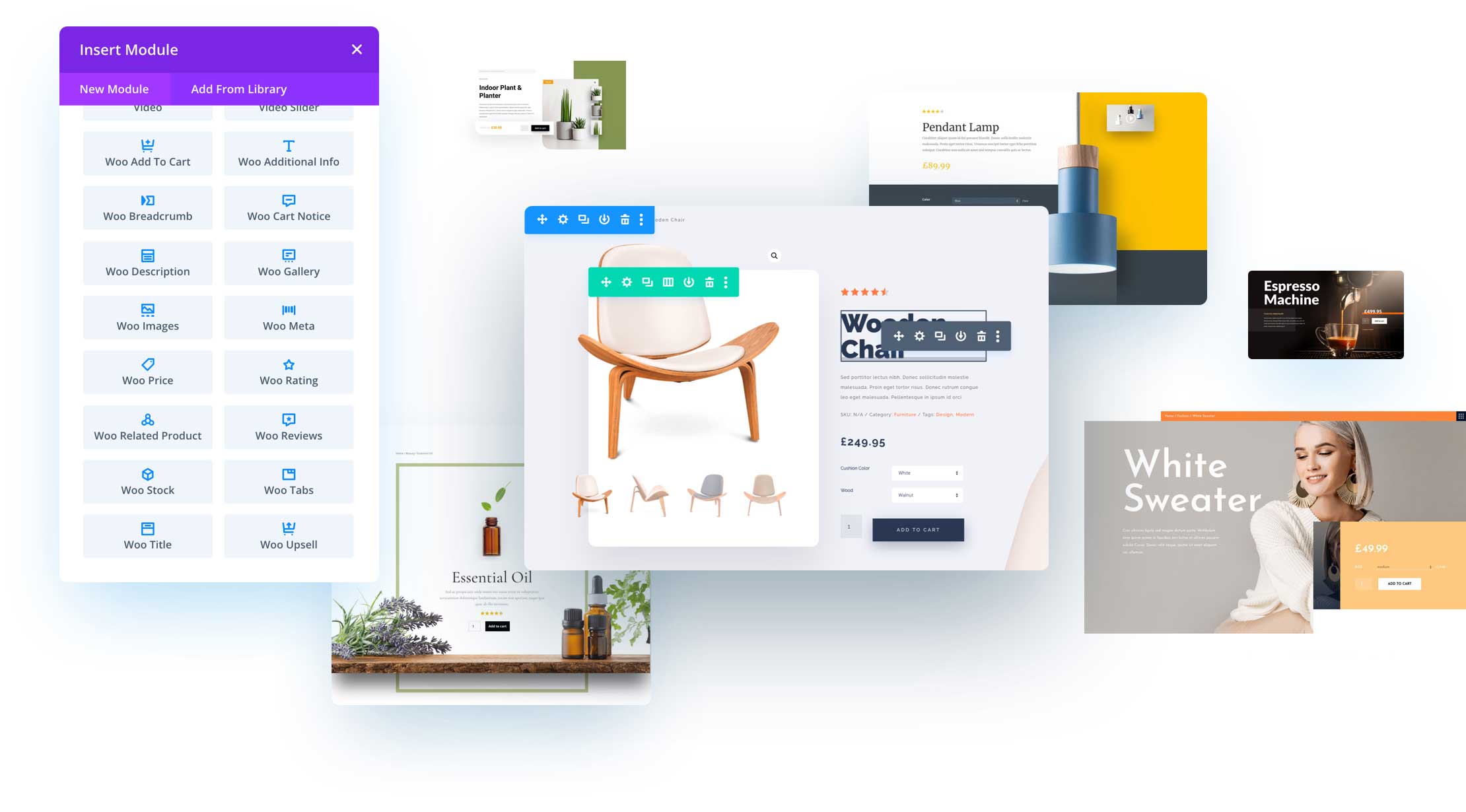 Sell Your Products
Showcase unlimited items in your store for users to browse and purchase your products online. Selling with WordPress has never looked so good.
Build Product Layouts with Divi's WooCommerce Modules
Enjoy full control over the design of your product pages with custom WooCommerce Modules that allow you to create and control any individual WooCommerce element anywhere on your website. Decide what shows up on your product listings, move things around and even mix WooCommerce modules with standard Divi modules to create just about anything. Divi takes WooCommerce to the next level.
Intuition
The Smartest Builder You'll Ever Meet
Builder Settings & Controls
The builder interface comes with a lot of options that allow you to customize your building experience. We try not to lock you down into into specific UI conventions, but instead give you the freedom go to create websites the way you want to.
LEARN MOREPLAY VIDEO
Quick Page Creation
When you create a new page Divi gives you easy access to hundreds of pre-made layouts and all of your own saved layouts. You can quickly duplicate existing pages or start from scratch.
LEARN MOREBROWSE LAYOUTSPLAY VIDEO
A Fluid & Intuitive Interface
Divi's interface is one of a kind. It's unobtrusive and incredibly fluid. You can move interface elements around and reposition your tools to create a workspace that suits you. It doesn't lock you down into a specific UI convention, but instead lets you choose the mode that works best for you. It will adapt to your screen size and never get in your way.
History, Auto Saves & Browser Backups
Divi has your back. Every action you perform while building is saved into your editing history. You can undo, redo and explore revisions with ease. If something goes wrong, like your internet going down or your computer crashing, Divi will automatically save your progress so that you can restore it.
Save, Import & Export Elements
With Divi you can save design elements or complete layouts into the Divi Library. These items can be easily accessed, edited or re-used on different pages. You and your team can quickly create a set of design elements that can be used to build a cohesive website with incredible efficiency. You can also import and export these layouts between different websites. Build your own design library or download and use any of the countless amazing layouts available from to the Divi community.
Builder View Modes
There are multiple ways to build with Divi. You can freely switch between different view modes, choosing the one that best suits you or your current project. Zoom in and out, toggle through mobile device views, switch between unique interaction modes or build your page structures quickly in wire-frame mode. It's up to you.
Builder Walk Through
It's easy to jump into Divi and start designing websites. We built helpful product tours right into the interface, allowing beginners to learn while using the builder. Product tours are great for clients too, saving designers time when handing off websites to their clients.
LEARN MOREPLAY VIDEO
Theme Builder
Design Your Entire Website, Not Just Posts And Pages
Enjoy a fully-featured website templating system that harnesses the power of Divi's Visual Builder to design your website's header, footer, product templates, post templates, category pages, 404 page, and more.
LEARN MOREPLAY VIDEO
Header & Footer Builder
Using the Theme Builder you can create custom headers and footers for any part of your website using Divi's many modules and layout options.
Post & Product Template Builder
Using Divi's Theme Builder, you can create site-wide post and product templates that change the structure of posts across your entire website. You don't need to design each post one at a time with Divi and you don't need to code Child Themes to modify your theme's structure. Everything can be designed in the builder and post information can be displayed automatically using Divi's Dynamic Content system.
Global Website Styles
Customize your website with its own overarching design system by editing the default design of any element. When you modify a module's default design, it updates across your whole website at once. Site-wide theme building plus site-wide design editing is the ultimate combo.
Management
User Roles, Theme Options & Website Support
Divi comes with a full set of theme options that make your website easy to manage.
Browse Documentation, Get Technical Support, and Enable Remote Access With a Single Click
The Divi Support Center helps you fine tune your website using the System Status checkup. You can enable Remote Access with a single click to allow our support team to log in to your website and fix any issues you are having. You can also toggle Divi Safe Mode to quickly and safely bypass any conflicts with third party plugins.
Set Custom User Roles And Permissions For Your Team Or Clients
Divi comes with a Role Editor that you can use to limit access to certain things within the builder. For example, you might want to limit your client's ability to modify your design, but allow them to change text content within a fully designed page. It simplifies the experience for your customers and keeps the website designer in control.
LEARN MOREPLAY VIDEO
Easy Theme Setup And Full Theme Control With The Divi Theme Options
Divi comes with tons of theme options and theme customization settings. All Divi settings are easy to manage within the Divi Theme Options panel.
LEARN MOREPLAY VIDEO
Global
Translated Into 32 Languages
Not only are front-end elements translated, but we also expanded the theme's localization to cover the Divi Builder interface, including all form fields and descriptions. When you enable an RTL language within your WordPress Dashboard, Divi and the front-end of your website will automatically switch to RTL mode.
Extendability
Access 100's of Divi Extensions Or Build Your Own
Divi isn't just a theme, and it isn't just a framework. It's a community of hundreds of thousands of designers and developers filled with amazing third party extensions, child themes and layouts to help take Divi even further.
Power Your Entire Company, Team, or Personal Website With a Single License
Unlimited Use
A single subscription gets you unlimited use of our themes and plugins. Install them on as many websites as you like using a single license. Use them on unlimited client websites too.
Simple Pricing
One subscription, one fee, no strings attached. Get everything in our single membership. Power your entire team and use our themes and plugins on unlimited websites.
Constant Updates
When you use our products, you can rest easy knowing that we are always working hard to keep them updated, secure and compatible with the latest version of WordPress.
Products You Can Trust
Your website and your client's websites are precious. You need to trust in the products that power them. Elegant Themes provides a level of support and product quality that is unmatched.
Rock Solid Security
We take security seriously when developing our products. Rest easy knowing that we have your back. Don't trust your clients websites with any old theme or plugin.
Active Community
You aren't just purchasing software when you join Elegant Themes. You are becoming part of an amazing community filled with wonderful and passionate people!
Access Permission Error

You do not have access to this product!
Dear User!
To download this file(s) you need to purchase this product or subscribe to one of our VIP plans.
Files Password : webdevdl.ir
Note
Download speed is limited, for download with higher speed (2X) please register on the site and for download with MAXIMUM speed please join to our VIP plans.